Career and Technical Education
To encourage higher graduation rates in Career and Technical Education and to provide enhanced opportunities for Guilford County students, Cemala has supported a variety of programs throughout the community.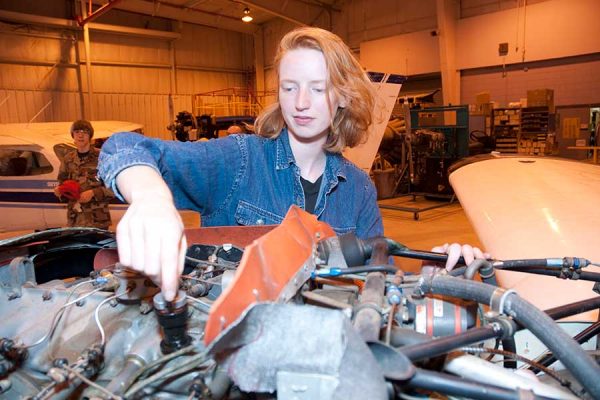 GTCC – Aviation Program and Scholarships
Cemala invested $932,500 in the expansion of aviation programs at GTCC and in scholarships for students in the expanded programs. GTCC's goal was to add an additional 90 students to its aviation programs.
GTCC provides access to lifelong learning opportunities for personal growth, workforce productivity, and community service. It serves all segments of Guilford County's diverse population, delivering educational programs and services through partnerships with business, community groups, and other educational institutions.
GTCC continues to expand its aviation program to meet the growing need of a trained workforce for the aviation industry in Guilford County.
The Cemala Foundation supported this initiative by investing in faculty salary, supplies, equipment, administrative support, and scholarships to support four strategies:

Adding a fourth cohort of 25 students for the Associate Applied Science Degree for the FAA Airframe and Powerplant license
Adding a program to help veterans with aviation mechanic/technician military experience to accelerate through a program to meet requirements to take the FAA Airframe and Powerplant license exam
Adding a cohort of 20 students for the avionics program
Increasing student scholarships
Andrews Aviation Academy
Over three years, Cemala invested $174,450 in summer internships and aviation clubs (Team America Rocketry Challenge [TARC] Club and Young Aviators Club) at The Andrews Aviation Academy, part of the Guilford County School System.
Guilford County Schools offers students in grades 9-12 from across the district the opportunity to learn all things aviation at The Academy. Instruction at The Andrews Aviation Academy is inquiry-driven, technology-enhanced, and problem-based. The Academy provides a jumpstart to a career in aviation preparing students for college and giving them a head start on the technical training needed for certification by the Federal Aviation Administration.
It is one of three aviation academies in North Carolina. It offers five aviation career pathways: Engineering, Pilot, Airframe and Powerplant (A&P) Mechanic, Avionics Technician and Airport Management. The goal is for students to realize a variety of benefits from The Academy, and the community to realize a pipeline of skilled pilots, avionics technicians, airframe and powerplant mechanics, and engineers for the aviation community.
For more information about The Aviation Academy, visit the Guilford County Schools Magnet Program and follow The Academy on Twitter at @TWAndrewsHS.